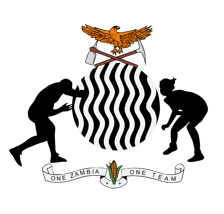 Perhaps the most unusual story in wrestling Zambian wrestlers (and other competitors from Northern Rhodesia/Zambia) hold the record as the only team to enter an Olympics as one country and finish it as another, which occurred at the 1964 Olympics.
2 wrestlers would compete for Northern Rhodesia/Zambia. John Alan Smith and Theunis van Wyk, neither would advance and this would be the last time Zambia would have a presence in the global wrestling community.
That is until 2022 when Australian youth wrestler Karen "Kray" Gregory would visit Zambia on their way to the Under 17 World Championships (aged 14). Kray delivered workshops at St Mary's School and Buyantanshi Christian Community School both in Kabwe.
This would be inspirational and lead to the rebirth of Olympic wrestling in Zambia with the founding of The Wrestling Association of Zambia (WAZ), Zambia's first National federation for Olympic wrestling and affiliated with United World Wrestling the global body for the sport of wrestling.
A strong, resilient and inclusive Zambian wrestling community for all Zambians to be proud of.
The Wrestling Association of Zambia will deliver fair, enjoyable and quality competitions and events to all members in order to provide a pathway for them to achieve their best outcome in the sport.
The Wrestling Association of Zambia acts in favour of the practice of Wrestling, in the spirit of its traditions and in accordance with the requirements of the Olympic Charter and United World Wrestling.
Its aims are, in particular:
• To ensure the safety and wellbeing of all participants and spectators within the sport of wrestling and its related disciplines within Zambia.
• To encourage the development of all Wrestling styles and to promote the Sport in Zambia;
• To provide support and technical assistance to all clubs, coaches, officials, athletes and stakeholder in Zambia;
• To contribute to the development of friendly relationships between the wrestlers, stakeholders and between fellow National Federations;
• To establish and disseminate the international rules for the different Wrestling styles and exercise control over Wrestling throughout the Affiliated and Associated Members;
• To supervise the application of Wrestling rules and regulations at all competitions and events which are held under the control of the Federation;
• To designate, select, train and control referees, coaches and managers;
• To represent the sport of Wrestling and to protect its interests within the Olympic Movement, in particular at the National Olympic Committee of Zambia and other relevant sports associations or organizations;
• To protect the integrity of the sport and promote fair play free of any forms of bullying, harassment, discrimination or corruption.
• To take any necessary measures to protect Athletes from any form of abuse and harassment ensuring a safe environment for all participants and spectators.
• To promote sustainability and the protection of the environment.
Respect;
For ourselves, our sport, our community, our environment and our opponents. We understand that it must be earned and retained, it is not a right or entitlement but something we earn by our words and deeds.
Accountability;
We accept the responsibility for our words and actions both good and bad, victory and defeat. It is our actions that determine our path and where it leads us. We will accept this fact in its entirety at all times.
Vitality;
Our sport is challenging regardless of the role. We will always seek to apply ourselves to our goals with the energy worthy of them. Our actions and life choices will reflect the spirit of our sport and benefits it can have to a healthy, fun and successful life.
Integrity;
We will always conduct ourselves in an honest and upfront manner, respecting the rules of the game in word and in spirit. Our conduct on and off the mat will be an example of how we choose to live as athletes and members of our communities local and global. When we make mistakes or have losses we will have the integrity to own them as we own our successes.
Olympic wrestling;
Olympic wrestling covers 3 distinctly different forms. These being Men's Freestyle, Women's Freestyle and Greco-Roman (men only at this stage). The main difference between Freestyle and Greco-Roman is in the rule set, in Greco-Roman the legs cannot be used in any form of attack or defense in standing or on the ground. Whereas Freestyle allows the whole body to be used. Below is a couple examples. Freestyle on the left, Greco-Roman on the right.
Other forms WAZ supports (or can support);
WAZ often uses Beach wrestling as a beginner and off-season program. It is an international rule set just like Freestyle and Greco-Roman only much simpler and a shorter game format.
In time we hope to include Grappling, which uses a similar rule set to Brazilian Jiu Jitsu (BJJ) with a longer game time and allows for pain submissions and chokes. However this is not something WAZ is equipped to support.
Traditional wrestling forms can potentially be supported however these are assessed on a case by case basis.
President - Mercy Mulenga.
Vice president - Justin Nyemba
Secretary - Raphael Mulenga.
Treasurer - Boas Mulenga.
Referee's representative - Blessings Mulenga.
Coach's representative - Naomi Senti.
The Wrestling Association of Zambia (WAZ) is a powerful force for growth and development in our nation. We govern the sport of wrestling with a vision of encouraging and supporting the development of wrestling in all provinces of Zambia. We do this by building relationships between communities within Zambia and internationally and we work tirelessly to help our wrestlers achieve greatness both in competition and life.
As the president of WAZ, I invite all those who are interested in the sport of wrestling to be part of this journey. Together, we can achieve great things in developing the sport of wrestling in Zambia. Join us and let's work together to build a stronger, bigger and more successful WAZ for all Zambians.
Thank you.
Mercy Mulenga.
Founding President WAZ, 2023.
But where are the funny outfits and acrobatics?
Many people don't realise that there is a massive difference between Professional Wrestling (like WWE) and real wrestling. This stems largely from the fact that Boxing and Professional boxing are both sports while Wrestling and Professional wrestling are not. In the examples below we see Professional wrestling on the left and Wrestling on the right with Beach wrestling across the bottom.
Pro-wrestling; (Not WAZ)
Entertainment media.

No specific uniform requirements.

Sprung floor, limited contact, ropes on a square ring.

Fitness is not critical.

"Rules" can vary.

No unified scoring system.
Olympic wrestling/wrestling;
Recognised sporting events.

3 forms (Greco Roman, Men's & Women's Freestyle)

Specific and unified rules and uniform guidelines.

Conducted on a mat without obstables (40mm foam)

Fitness is critical.

Physical contact is required.

Scoring is visible and consistent.
Beach wrestling;
Recognised sporting events.

Shorter game time than full Olympic wrestling.

Conducted on sand however can be adapted for other surfaces.

Fitness is critical.

Physical contact is a requirement.

Scoring is visible and consistent.
WRESTLING ASSOCIATION OF ZAMBIA NATIONAL ASSOCIATION
COPPERBELT PROVINCIAL OFFICE
EASTERN PROVINCIAL OFFICE
LUAPULA PROVINCIAL OFFICE
MUCHINGA PROVINCIAL OFFICE
NORTH WESTERN PROVINCIAL OFFICE
NORTHERN PROVINCIAL OFFICE
SOUTHERN PROVINCIAL OFFICE
WESTERN PROVINCIAL OFFICE
CLUBS AND TEAMS WITHIN EACH PROVINCE